Skar Audio Rewards Points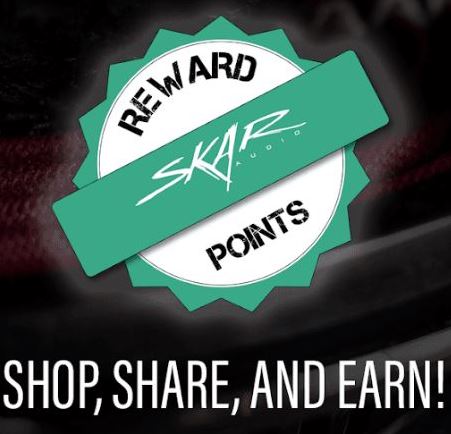 In an industry that is filled with choices for car audio suppliers, Skar Audio felt it important to find a way to reward customers who come back time and time again showing their loyalty to the brand.
In November 2019, Skar Audio instituted a rewards program where loyal customers can earn points on purchases that can be redeemed for discounts on future purchases. Our loyal customers have helped us grow and build a brand they can be proud to put in their vehicles, and this is our way to reward you for choosing excellence over and over again.
Sign Up
It's simple! Here's how:
Register for an account with Skar Audio by clicking HERE. Already have an account? Click HERE to log in.
Click on the Rewards icon in the bottom right-hand corner of the website.
That's it! You are registered to start earning points on all future purchases!
Earn Points

Purchases
Skar Audio wanted to make it as simple as possible for you to earn points! Points will be earned and calculated based upon the subtotal of your order. The subtotal of the order is the price of the product after any sale, discount, or promotional codes have been applied and prior to any taxes, fees, or shipping charges.
To earn points, you must have an active Skar Audio account and be signed in to your account at the time of checkout. If you are a first time customer, we recommend creating your account and registering for the rewards program prior to completing a purchase. Purchases made outside the Skar Audio website are excluded from receiving points.
Refer a Friend Bonus
We hear from new customers every day that they were referred to Skar Audio by a friend or a family member. Referrals have been crucial to the success of our brand, and we want to give thanks to everyone who spreads the word about Skar Audio!
Every friend you refer who successfully completes a purchase with Skar Audio using your unique referral code will get you $20 off your next order! We make it simple to find and share your unique referral code, and you can currently share your code via Facebook, Twitter, and email.
You can find your unique referral code by logging into your Skar Audio account, clicking the Rewards Icon in the bottom right-hand corner of the website.
How do I redeem my points?
Back for more? We knew you would be!
Skar Audio puts you in control of your points with our easy self-redemption application. Once logged into your account, click on the Rewards icon on the bottom right-hand side of the screen. The pop-up menu will give you an overview of your account including how many points you have available to redeem. Click on the View button to open up the redemption slider. Set the amount you would like to use and click Redeem.
Once your coupon code has been generated, you can quickly apply it to your cart by clicking Apply Code or you can copy and paste to use it on a later order.
Not ready to order? No problem! We will keep your code on file for you for when you are ready.
NOTE: Please keep in mind that once you redeem points in the rewards program, the points are no longer able to be added back to your account and will be allocated to that coupon code only. We are unable to add the points redeemed back to your balance after the coupon code has been generated.
Do I keep my points if I receive a refund for my order?
If an item is returned for a refund under our 30 Day No-Hassle, Money-Back Guarantee, the points earned will be deducted from your point balance. If you are only returning a portion of your order, the points allocated for this portion of your purchase will be the only points deducted and points awarded for all items that you kept will remain intact.
On any order or item that is returned for a refund in which a Skar Audio Loyalty Points discount code was redeemed, you will not be reimbursed with points to offset the loss of the discount code.
Why is my discount code not working?
Having difficulties with applying your code? We are here to help!
Only one discount code can be used on an order.
If you are trying to use more than one discount code on the same order, only the code initially applied will be added to your order.
Has the code been previously applied to another order in the past?
Only active codes that have not been used on a previous order will be valid. If you feel the code may have been previously used but are unsure, you can check your Order History by logging into your Skar Audio account.
Is the item already on sale?
If an item is already on sales due to a promotional period at Skar Audio, you will not be able to use your Skar Audio Loyalty Rewards Points discount code on the purchase.
I redeemed my points for multiple smaller coupons, can I combine them into one coupon to use?
Once points are redeemed for a unique discount code, Skar Audio is unable to recombine the coupon codes to be used as one large discount.
---
---