Skar Audio Returns
Skar Audio is proud to offer a 30 Day Hassle-Free Money-Back Guarantee for all purchases made on our website, SkarAudio.com. Whether you are having second thoughts, a sudden change of heart, or just want to upgrade to the next level, we have you covered!
To return your items for a full refund, simply follow the steps below:
Click Here to be directed to Skar Audio's Returns Center
Enter your order number and Zip Code of the shipping address used on your order
Follow the steps to complete the submission of your return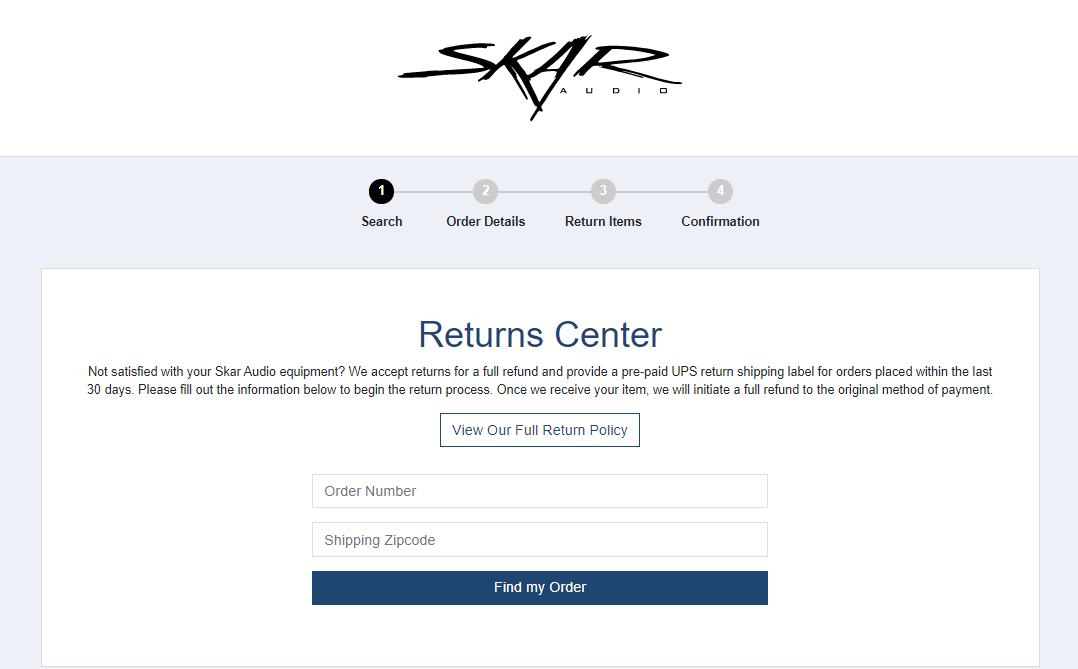 Once your return request is completed, you will receive an email with further instructions and a shipping label (if applicable). Please print off the instructed page and shipping label, and then package it with your items so we can easily identify your items when they arrive.
Returns can be sent to the following address:
Skar Audio Returns
9700 18th St N
Saint Petersburg, FL 33716
Upon receiving your item(s), an email notification will be sent to you to confirm that we are in possession of your items. We will send another email when we process your refund. We process most refunds the same day we receive them; however, please allow 48 hours from the time of arrival at our facility for processing. Once processed, please allow 5 to 7 business days for the funds to be restored to your original payment method.
Important Notes:
Item(s) must be received by Skar Audio within 30 days to be eligible for a refund
Select products may be excluded from receiving a return shipping label
---
---